Catfish
Product ID: #52
Available:

In stock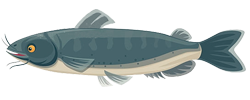 «Aquatus Catfish» The program is designed with Clarias spp. culture in mind. We understand the unique nutritional requirements and varied culture conditions where this species is raised. Aquatus diets are proven to be highly digestible and result in fast growth rates and improved water quality in production systems. Aquatus is proud to offer a unique […]
Product Description
«Aquatus Catfish»
The program is designed with Clarias spp. culture in mind. We understand the unique nutritional requirements and varied culture conditions where this species is raised.
Aquatus diets are proven to be highly digestible and result in fast growth rates and improved water quality in production systems.
Aquatus is proud to offer a unique line dedicated to the culture of African Catfish. Aquatus products cover all lifestages beginning with our specialty weaning formula (AP200) and culminating with three options for growout depending upon your production parameters and goals.
«Aquatus Catfish» feeds have been the industry standard for many years. Today, all our Starter feeds contain Vpak, an all-natural immunostimulant that supports juvenile development and promotes higher survivals in stressful culture conditions.